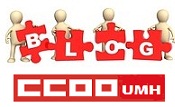 What is the CCOO blog for?
Transmit the trade union principles of the CCOO which are: vindication, unitary, democracy and independence, a participatory union for the people, for men and women, sociopolitical, internationalist and intercultural
Transmit the educational principles of CCOO: We defend a general system of state education of quality, which is pluralist, coeducational, egalitarian, rooted in the socio cultural environment and managed democratically. This system should be financed by public funds and at the service of all Spanish and foreign people resident in Spain, without any discrimination.
Transmit the social principles of CCOO: We especially fight against any form of discrimination based on gender, sexual orientation, age, ethnicity and/or political or religious convictions and we encourage measures in defense of the environment.
Facilitate communication with all workers (Teachers, administration workers, white collar and blue collar workers) and interact with each other. We want the blog to be an instrument of two-way fluid communication among all users.
Why a blog?
Because we want to give all colleagues an instrument to express themselves, and to have a deeper vision of organizational democracy. We want to improve our task of listening carefully to suggestions, complaints and contributions from everyone. We believe that in today's society, and more so in the Miguel Hernández University, collaboration with each other is fundamental.
What is the content?
Every day, we try to provide a useful blog; solving problems, giving information and clearing up any queries. We do this with confidence, but without claiming to be in possession of the truth. In tune with the present because it is necessary to keep up to date and to do so we also ask for your collaboration.
Go ahead and generate content and ask us about issues of interest!!
Welcome to the CCOO UMH blog!
This blog is a space for opinions in relation to trade union, work, educational and social issues of the MiguelHernándezUniversity and its environment.
We invite you to participate with comments on entries posted and your thoughts on different subjects in the blog.
Given the low credibility of anonymous comments, we are grateful to those people using the blog who identify themselves.
We accept any opinion as long as respect is shown towards the people who participate in the blog or third parties, and for this reason we reserve the right to eliminate any comments that do not respect people, organizations or institutions.